Products
Pool Noodle 15 Pack with 2 Seats
Pool Noodle 15 Pack with 2 Seats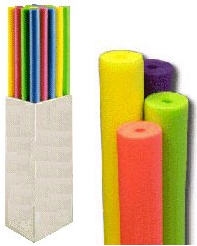 $59.95 Buy
Our brightly colored Pool Noodles are approximately 2-3/4" OD, 59" long with a 5/8" hole thru the center. This package includes two Pool Noodle Seats that are manufactured from a high quality polyester mesh and are very easy to assemble. Just slide our standard size pool noodle thru the top of the seat and the handle loops and you are ready to cool off in the pool. This is great for kids 6 years and up as well as adults!
Color may vary from what is pictured.

Please read and understand this before ordering to avoid any confusion:
Prices include UPS Ground Delivery (excluding AK) and is the only available shipping option due to their size. That means pool noodle boxes will only ship UPS Ground regardless of what shipping method you select at checkout. If you order other items along with a box of Pool Noodles, the other items will ship via whatever method you select BUT Pool Noodles always ship UPS Ground. Due to sanitary reasons, no pool related items can be accepted for return.
---