Products
Heat Packs
SnapHeat Heat Packs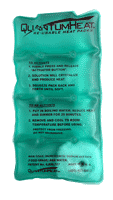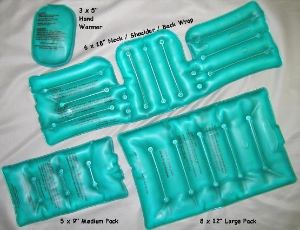 SNAPHEAT heat packs are portable and generate reliable scent free, instant heat, where and when you need it. Our heat packs are fully reusable again and again and are ideal for any application where safe, convenient, fast, scent free, heat is required. No batteries or electrical cords are required for use.
The simple SNAP of a "activation trigger" starts a unique, instant crystallization process that produces heat up to 130 degrees Fahrenheit within seconds. These heat packs can produce therapeutic heat from 30 minutes to two hours or more, depending on heat pack size and application. Heat times are extended by using any form of insulation. After use, the spent heat pack can be recharged by simply placing it in hot water for a few minutes and following the simple instructions included on each pack. Click here for more technical information.
SNAPHEAT heat packs are non-toxic, completely self contained and available in a variety of shapes and sizes.
SNAPHEAT reusable heat packs are used at home, in the car, by people on the move and worldwide by outdoor sports enthusiasts. They are also used by our nation's armed forces, scuba divers, medical search and rescue teams, massage and physical therapists, athletic trainers, and other physical rehabilitation personnel to treat stiff/sore muscle groups and speed the rate of healing and recovery.
PROUDLY MADE IN THE USA